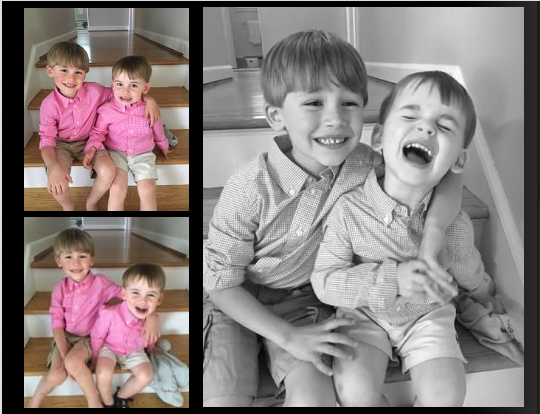 Kathy created two fabulous books for my parents who have been quarantined in an assisted living facility most of this year. I was overwhelmed in trying to condense thousands of pics taken through the years. She made it happen and we could not be happier. It has brought my parents so much joy seeing all these old pics and reminiscing on so many happy moments. The books truly are a treasure, and they arrived at the most perfect time, too. 
Kathy made two amazing photo books for my grandparents. My grandfather got to see the books literally the day before he died, when minimal visitors were allowed to the hospital, so he didn't get to say goodbye to most people who loved him, but he got to see their pictures and see an absolutely beautiful recap of many of the best moments of his life. It was truly miraculous timing and such a blessing to see the joy that these books brought to him. Thank you, Kathy, for making this beautiful gift possible!
Kathy took an old vintage photo album of mine and turned it into a beautiful new book featuring my late sister. I had it made for her children because they didn't have any photos of their mom as a baby/young child. Working with Kathy was a dream, and this was money so well spent.
The photo album Kathy created of my granddaughter Lily was a big hit when I gave it to my son and daughter-in-law at Lily's christening. Both my daughter-in-law and her mother have been raving about the book. Thank you, Kathy, for your professional eye and efficient service.
Kathy is my Fairy Godmother!  As a tech challenged Nana, I had spent weeks, trying desperately and failing miserably, to create a photo book of our Family Reunion trip to Disney World for our 6 year old granddaughter's birthday. I was incredibly frustrated and ready to abandon the project when a friend told me about Kathy.  Within three days, she had waved her wand and created the most beautiful photo book capturing all of the special moments of our trip and telling our family story, as well! In addition to being amazingly competent, Kathy is one of the nicest, kindest people ever!  It is clear that she thoroughly enjoys making memories with people!  I highly recommend her! 
It was such a pleasure working with Kathy! She has completed two beautiful bat mitzvah albums for me. She has a wonderful artistic eye for flow and layout of the album. Kathy took the time to talk to me to understand my event and its significance, and that translated into albums we will cherish forever. I trust her judgment. We'll be working on a third album soon!
"Kathy did my wedding album and it came out wonderfully. I love working with Kathy. She had great ideas on how to arrange the photos and use different backgrounds, and the album was finished in a very timely manner."
"I could not have produced my 39-page, hardcover photo book of memories of a 2019 river cruise to Budapest, Vienna, and Prague without Kathy's artistic eye. Careful, thoughtful photo placement is what characterizes this treasured end result."
"Kathy did a wonderful job creating our wedding album! She made the whole process seamless: we sent her our photography, she placed the images in layout and reviewed a draft with us, she made the few revisions we requested, and we had our beautiful album within a couple of weeks. We couldn't be happier with the results."
"Kathy has created three year-in-review photo books for our family and we are so thrilled with the results! She carefully selects the best pictures and strategically places them on each page. She works efficiently and quickly, producing the books in a timely fashion. Kathy listens to my requests and executes each one even better than desired. We feel fortunate to have met Kathy and enjoy all the books she has made for us!"